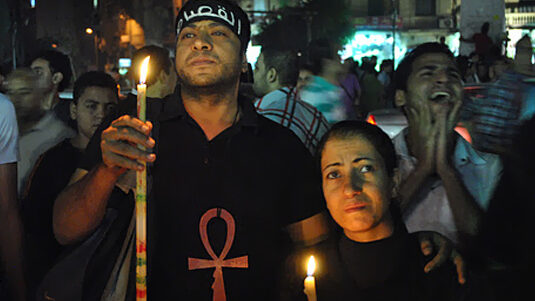 13 Oct

More on the Recent Massacre of Copts in Cairo

In my last blog post I emphasized the role of the Egyptian military in killing Copts last Sunday.  However it seems that most of the killings may have been done by gangs of Muslim men who took to the streets.  In my previous post I had noted that one of the men's bodies in the morgue had had his throat cut, a mark of a religious ritual slaying which pointed to the activity of religious civilians rather than to soldiers.  An important eyewitness account by Reva Bhalla throws light on what was happening:
As I neared the crowd, scores of mostly young Muslim men pushed their way past me carrying large wooden sticks and whatever rudimentary weapons they could fashion out of household kitchen items. Walking in groups of three or more with a confident swagger, they told everyone along the way that Copts were killing Muslims and soldiers and called on others to take revenge. The reality at this point did not matter; the mere perception that Copts were killing soldiers and Muslims was all that was needed for Muslim mobs to rally. While this was happening, state media was broadcasting messages portraying the Copts as the main perpetrators.
The crowd in Maspero was only about 1,500 people by my estimation, but a growing Muslim mob was pushing it deeper into downtown toward Tahrir Square. From where I and several other observers were standing, many of the Muslim rioters at first seemed able to pass through the military barricade to confront the Copts without much trouble. After some time had passed and the army reinforcements arrived, the military started playing a more active role in trying to contain the clashes, with some footage showing an armored vehicle plowing through the crowd. Some rioters claimed that Salafists from a nearby district had arrived and were chanting, "Islamiyyah, Islamiyyah," while others parroted state media claims about "foreign elements" being mixed in with the demonstrators. As the night wore on, the scene of the riots split into roughly three sections: the Muslims on one side, the military in the middle and the Copts on the other.
This was not the best environment for a woman, especially one without an Egyptian ID card. A member of the security forces put a gun to the chest of a young, Egyptian-born female reporter, accusing her of being a foreign spy, before a group of young men came between her and her assailant, pulling her back and insisting she was Egyptian. The Muslim mob badly beat at least two young Coptic women in the crowd, after which throngs of young Coptic men gathered to take revenge.
 A Copt alone on the wrong side of the army barricade became an immediate target, and I watched as scores of Muslim men carried one Coptic man after another into dark alleyways. These men likely contributed most to the final civilian death count. Cars with crosses hanging from their rearview mirrors were attacked with incendiary devices, their windows smashed.
In the light of this testimony, it is deeply shocking that Egyptian government officials and state media were so quick to stoke anti-Christian enmity (for example by putting out a subsequently discredited report that soldiers were being killed by Christians).  This gives more than enough cause for Western governments to call upon Egypt's rulers to protect Egypt's Christians and not sacrifice them to the mob.
A perfect example of a very shabby response to these events is the press release put out by the Whitehouse:
The President is deeply concerned about the violence in Egypt that has led to a tragic loss of life among demonstrators and security forces. The United States expresses our condolences to the families and loved ones of all who were killed or injured, and stands with the Egyptian people in this painful and difficult time. Now is a time for restraint on all sides so that Egyptians can move forward together to forge a strong and united Egypt. As the Egyptian people shape their future, the United States continues to believe that the rights of minorities – including Copts – must be respected, and that all people have the universal rights of peaceful protest and religious freedom. We also note Prime Minister Sharaf's call for an investigation and appeal to all parties to refrain from violence. These tragic events should not stand in the way of timely elections and a continued transition to democracy that is peaceful, just and inclusive.
For security forces were not killed – this was part of the misinformation put out by Egyptian authorities which incited the killings of Copts.  Shockingly President Obama has given official credence to the very reports which have caused innocent people to have their throats cut in dark allies.
Samuel Tadros' bitter complaint seems more than justified:
Perhaps I ought to join the president in his concern and call for restraint: I call upon the security forces to refrain from killing Christians, and upon Christians to refrain from dying.